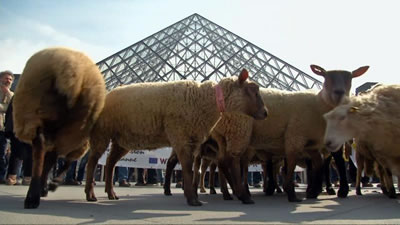 Sheep remind me that I'm following my passion and making my dreams come true. Whenever I see sheep in a strange setting, as happened today in the Louvre, I'm inspired to move ahead and get on with what matters most.
'Get up, stand up'
In 'Ants: building dreams' I write about a stranger who spontaneously started singing Bob Marley's 'Get up, stand up' to me – on two separate occasions. Last week, the significance of this was made extra clear to me.
After a week's holiday, I came home from my first day back at work. And on three different occasions in a short space of time, I came across photos of sheep. It didn't surprise me in the least that I was seeing these strange photos at this particular time. Because, as Jef Staes has said so wisely, they're a warning for me not to go into 'sheep mode'. And then when I checked my inbox, there was a newsletter from Jef himself waiting for me. I wrote a piece on him earlier in Even more sheep.
High time to stand up!
His newsletter also contained references to sheep, but this time in combination with a remarkable message: 'I want to see change … So it's high time to stand up!'. In that same piece he also refers to a reading. And suddenly I realised what 'Get up, stand up' was trying to tell me: it was about my own reading!
Currently, after spending years sitting down and blogging to inspire people, I am now literally standing up and about to talk in front of a group of people. At the time the man sang 'Get up, stand up' to me, my reading was in the conception phase. A couple of days later, on Valentine's Day (14 February), Ontmoet Anna and I decided to organise a reading on pure happiness on the International Day of Happiness. I received Jef Staes' newsletter two days before giving the reading on 20 March. That's how literal meaningful coincidence can be.